Support our Appeal to Restore The Princes Risborough North Signal Box.

From 1904 to 1991 this impressive signal box commanded the railway through the Chilterns, but it now needs help if it is to survive. Can we give it life once more as its builders intended, watching over panniers busy on our branch as Birmingham expresses thunder by?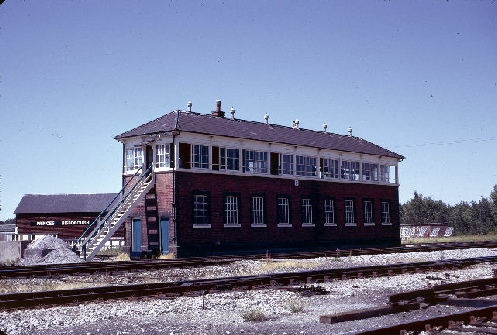 The Chinnor & Princes Risborough Railway Association is a registered charity, number 1016237. It and the railway it owns are operated, managed, developed and maintained entirely by volunteers.
©PRNB 2015 Updated: 16/12/2015 E&OE
eDonate
eMail
Opens a new window on the CPRRA main site
Sets up an addressed blank email
PRN Box was a splendid 126 lever brick-built building, and has become the largest surviving Great Western signal box. It is a listed building. Neither means it is guaranteed not to fall down or rot away! It falls to us to look after this imposing piece of our railway heritage, and it will be a unique showpiece for our railway if we do it well.
While the biggest restoration tasks (re-roofing, main timber replacements, new fencing…..) will probably have to wait for funding and can raise grant and sponsorship, we are keen to get on with halting and correcting the deterioration. In this we have had some success, thanks in part to the generosity of our supporters in providing funding. Individuals have made donations or even bequests, some companies have supplied materials free of charge.
So we need to keep up that flow of funds if we are to continue to protect and advance the box, and we have launched an appeal for funds. Please can you help? If you would like to do so please use one of the buttons below. If you wish to make an individual arrangement, such as a standing order, please email stating your wishes. Businesses wishing to offer materials or any other form of support, please contact us by email (right button below).
Please note all monetary donations will be handled by Chinnor & Princes Risborough Railway Association Limited, a registered charity, and if you contribute on line you will be diverted to the Association's main website (middle button). Please come back here afterwards! To send us a cheque, please use the form (left button).
Thank you!
Print Form