Princes Risborough North Signal Box; Restoration in Earnest (2014 to 2016)


The Chinnor & Princes Risborough Railway Association is a registered charity, number 1016237. It and the railway it owns are operated, managed, developed and maintained entirely by volunteers.
©PRNB 2018 Updated: 01/06/2018 E&OE
2014 was a year of consolidation and repairs vital to the survival of the box. From the outside it might have looked as if little was done but to us working inside much was achieved in terms of working conditions and security. Doors repaired and painted, rotten wood in window sills and pillars replaced, sashes (some temporary) re-glazed and painted, the old battery room converted into a toilet, bracing of window lintels to hold them until full repairs could be completed, chimney breasts and fireplaces sorted out, cladding, cleaning, yet more painting etc.
2015 arrived and renovation of the Signal Box moved up a notch. The urgent work to stop the roof deteriorating further and replacement of the most badly rotten window supports was done. So with both Network Rail and Chiltern Railways taking a very positive approach to helping, our volunteers continued the vital repairs to the box and were able to start working on some of the more visible changes needed.
During its long period of dereliction, the external staircase up to the operating floor which houses the actual signal levers had become so rotten and dangerous that it had to be removed back in 2000 before it fell down of its own accord! This left us with no easy way up to the upper floor, save for climbing an internal ladder and crawling through a hole between floorboards. It came as a great relief later in 2015 when our members completed building and erecting a replacement staircase, even utilising some of the original parts.
To help celebrate this major step, we invited our then C&PRRA president, the late Sir William McAlpine and other notable dignitaries from NR and Chiltern Railways to officially open the staircase. A full report can be seen in the Newsletters page under 'Staircase Opening'.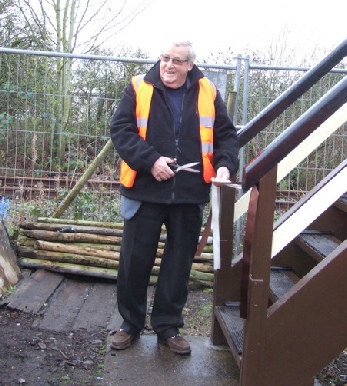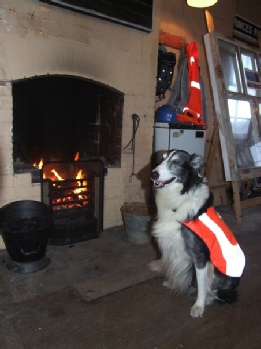 Winter 2015 was reasonably kind to us and neither did we have much snow to contend with nor did we face problems with frozen water pipes etc. We were able to open up the old fireplaces on the operating floor and on chilly days had a roaring log fire using all the rotten old wood we had taken out. All the volunteers agreed this was a pretty nice way to spend the run up to Christmas.
Of course, the biggest event of 2016 was running the Chinnor Railway's first passenger steam train service into Princes Risborough. To stand in the signal box and see the plumes of white smoke rise outside the window and to smell that unmistakable combination of coal, oil and steam. You just have to be there to experience it. So, why don't you join us?
We soldiered on in the rather chilly 2016 New Year doing as much as we could inside the box and focused our attention on the window sashes. We only had a couple of good windows where we had been able to take down the external plywood boarding, so with the aid of a generous local sponsor we glazed several more sashes and found ourselves painting, painting and then just in case, some more painting. The result is what you now can see if you pass the box on the train or see it from the station; a nearly complete set of upstairs windows. And what we see from upstairs are the trains running past the box. It's starting to feel like a 'proper' signal box again!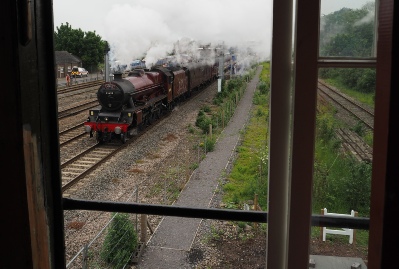 The fencing and safe walking route to the signal box has played such a vital part in allowing our volunteers access. We have had teams in the box just about every weekend during 2016. In summer we were even able to have our first Open Day for local people so they could come and see for themselves what all these strange people in bright orange coveralls get up to at the end of Platform 3 at weekends. We were delighted with the interest local people took in our efforts and we even had the Mayor come and attend our Signal Box Naming Ceremony where he unveiled replica name plates on the outside of the box proudly proclaiming 'PRINCES RISBOROUGH NORTH SIGNAL BOX' once more.